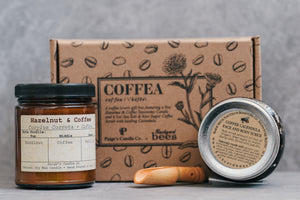 Coffea "Coffee" Gift Box
Vegan · Phthalate Free
Coffea is the scientific name for Coffee. We are proud to release our latest collaboration with Backyard Bees, a local Queens, NY small business specializing in handmade natural and organic products.  
Each Coffea Gift Box contains:
· 9oz Hazelnut & Coffee Taxonomy Candle by Paige's Candle Co
· 4oz Coffee & Calendula Body Scrub by Backyard Bees
· Natural Wood Scrub Scoop by Backyard Bees
Coffee Bean box illustration created by the incredible AJ the Awful

Our candle has a 45 hour burn time. Our scrub is made with sea salt, raw sugar, coffee, and healing calendula. Each box measures 7"x5"x4" and is lined with shredded black crinkle paper. Available while supplies last
Taxonomy is the branch of science concerned with classification. Our Taxonomy collection features a note profile classifying the fragrance notes blended to create each aroma. Rather than layering, we believe in carefully curating and blending fragrances to develop a unique candle experience.