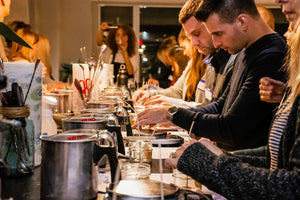 Candle Making Workshop in Brooklyn, NY - A.MANO Brooklyn
Participate in Paige's Candle Co's Candle Making Workshop!
Enjoy a 2 hour introductory candle making workshop on Thursday September 14, 2023 at 6:30pm EST! Students will learn how to assemble and hand make three 4oz soy wax candles with use of a commercial wax melter. This will be an intimate experience. Once sold out, we will open our wait list for cancellations.
Complimentary hors d'oeuvres, wine, and refreshments will be served. Students will also participate in a raffle.
Our intimate workshop will be held at:
A.MANO Brooklyn
585 Dean Street
Brooklyn, NY 11238
Please indicate any food allergies or dietary restrictions in the "special instructions to seller" box at checkout. We will make sure to have vegan, vegetarian, dairy-free, and gluten-free options if required.
Details specific to the Paige Candle Co's experience:
By clicking Add to cart

, you agree to 

Paige's Candle Co's terms below

Candle Making Workshop must be purchased by September 12, 2023 or while slots are available

Experience takes place on Thursday, September 14 2023, starting at 6:30 pm EST and concludes at 8:30pm EST

Experience is for participants 21 years old and older

Qty 1 equates to 1 individual ticket
Paige's Candle Co shall not be held responsible for last minute cancellations. We offer full refunds if a cancellation request has been sent via email on or before September 7, 2023 to info@paigescandleco.com

Participants are encouraged to take and share photos of their experience; digital recording of the event is prohibited. Paige's Candle Co. will take photos and record this event. By purchasing an entry, you agree and give permission for us to include you in our media

Experience is in English

Participants are to reach out to info@paigescandleco.com

 with any questions
Paige's Candle Co will not be responsible or liable in any way for any claims, damages, losses, expenses, injuries, costs or liabilities whatsoever (including, without limitation, any direct or indirect damages for loss of profits, business interruption, or loss of information) resulting or arising directly or indirectly from use of our workshop. Workshop begins promptly at 6:30pm. Our experience has a 15 minute grace period for late arrivals. In the event that Paige's Candle Co. needs to cancel this event due to illness or extreme weather conditions (determined by Paige's Candle Co.) you will receive a credit for up to 1 year of the date of purchase to participate in a future candle making workshop.