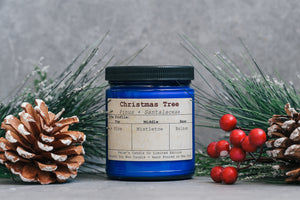 Christmas Tree Seasonal Taxonomy Candle
Vegan · Phthalate Free
Note Profile:
Choose between the following sizes: 
4oz Mini - 26 hour burn time


9oz Standard - 45 hour burn time

16oz Large - 90 hour burn time
Our Seasonal Taxonomy Candles are available until January 1, 2024. Each seasonal candle includes a natural burlap gift bag.
Taxonomy is the branch of science concerned with classification. Our Taxonomy collection features a note profile classifying the fragrance notes blended to create each aroma. Rather than layering, we believe in carefully curating and blending fragrances to develop a unique candle experience.
The best!
I buy them every year for friends and family. It is a great simple present that can get people into the season. I also like to pair it with the firewood to remind me of winters up in the north.
Loved it!
I am a complete candle fiend. This was a great addition for the holidays.. would buy again.
Very lovely evocative scent! Beautiful packaging.
Amazing Candle, amazing company!
These candles are hands down, the best!! Worth every penny and the scents are unique and full!