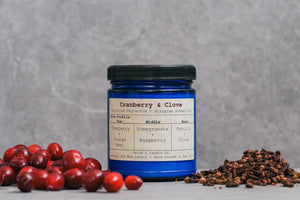 Cranberry & Clove Seasonal Taxonomy Candle
Vegan · Phthalate Free
Note Profile:
Cranberry + Orange Peel


Pomegranate + Raspberry


Vanilla + Clove

Choose between the following sizes: 
4oz Mini - 26 hour burn time


9oz Standard - 45 hour burn time 

16oz Large - 90 hour burn time
Our Seasonal Taxonomy Candles are available until January 1, 2024. Each seasonal candle includes a natural burlap gift bag.
Taxonomy is the branch of science concerned with classification. Our Taxonomy collection features a note profile classifying the fragrance notes blended to create each aroma. Rather than layering, we believe in carefully curating and blending fragrances to develop a unique candle experience.
Cranberry & Clove Seasonal Taxonomy Candle