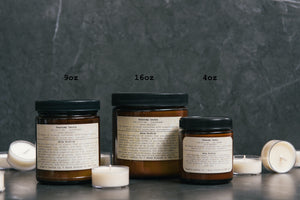 *Free Tea Light Samples
Vegan · Phthalate Free
Try before you buy!
Each sample order includes 10 FREE tea light candle samples of your choice. Simply pay $7.95 for shipping and handling. The $10 spent on samples will be credited towards your next order of $50.00 and over! 
Please select from the following aromas and add your choice of TEN aromas at checkout in the "special instructions to seller" box:
Blood Orange & Grapefruit
Chamomile (Limited Edition Gift Box) 
Fig & Apple Seasonal Edition Aroma (Available until 1/1/24)
Ginger Lemon Drop
Green Tea & Citrus
Hazelnut & Coffee
Jasmine & Honeysuckle
Lavender
Lilac & Eucalyptus
Mary Jane
Nut Milk & Honey
Olive & Sage
Rose Petal Chai Seasonal Edition Aroma (Available until 1/1/24)
Sea Salt & Charred Orange
Tomato Leaf & Basil
Whiskey Neat
Wild Grass
**You may order multiple samples however only one $10.00 coupon will be emailed to you once your samples are ready to ship. Free samples are for US customers only. Aromas that are not selected at checkout will be selected at random. Limit 1 per customer. Coupon codes expire within 2 weeks of when your samples are marked as delivered by our shipping carrier**
FREE TEA LIGHT SAMPLES
I absolutely love your candles, however, I was very disappointed with the sample tea lights. I had read some reviews about them smelling like chemicals, and I have to say they absolutely did.
In fact, I tossed a bunch of them and left the others to air out on my porch.
I think it is because they were packaged so tightly together in a very small envelope
Take advantage of this offer
Get a taster of all the scents you want to try. A great offer to help you choose from so many delicious scents
Great!
Perfect way to test the smells and you get $10 off your next order!