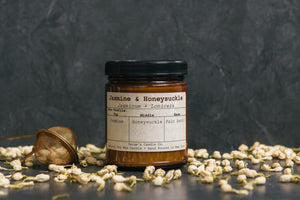 Jasmine & Honeysuckle Taxonomy Candle
Vegan · Phthalate Free
Note Profile:
Jasmine

Honeysuckle

Palo Santo
Choose between the following sizes: 
4oz Mini - 26 hour burn time


9oz Standard - 45 hour burn time


16oz Large - 90 hour burn time
 Try before you buy with our Free Samples.
Taxonomy is the branch of science concerned with classification. Our Taxonomy collection features a note profile classifying the fragrance notes blended to create each aroma. Rather than layering, we believe in carefully curating and blending fragrances to develop a unique candle experience
I love these candles - Jasmine & Honeysuckle is my go to.
I happened upon Paige's Candle Co. from an IG post. I took a chance and ordered the Jasmine Honeysuckle, two of my favorites scents. I also purchased the tea light sample pack to see what else I might like. The complex scent notes are exquisite. It smells natural, full bodied, artful. I highly recommend these candles.
Love love this fragrance!
Honeysuckle is my favorite scent and the combinations in this candle are great. Thank you!
I ordered two candles, Jasmine & Honeysuckle and Mandarin & Bergamot
The most beautifully scented candles I have ever bought, I will definitely be ordering again and adding the Patchouli to my list ❤️❤️❤️
Beautiful!
We are enjoying this candle very much. It is burning right now. The fragrance is wonderful. I will be ordering more of these!