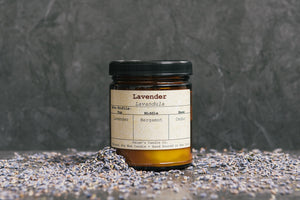 Lavender Taxonomy Candle
Vegan · Phthalate Free
Note Profile:
Choose between the following sizes: 
4oz Mini - 26 hour burn time


9oz Standard - 45 hour burn time


16oz Large - 90 hour burn time
 Try before you buy with our Free Samples.
Taxonomy is the branch of science concerned with classification. Our Taxonomy collection features a note profile classifying the fragrance notes blended to create each aroma. Rather than layering, we believe in carefully curating and blending fragrances to develop a unique candle experience
Best lavender candle
This lavender scent is literally the best. I burn this one the most out of my collection and I keep repurchasing so I don't run out. A staple scent for sure!
I sent it as a gift and haven't heard yet from the recipient!
Lavender candle
Nice scent but burned too fast. Use vs cost was not what was expected
Purest Lavender!
This is the purest smell of Lavender - Love this candle!