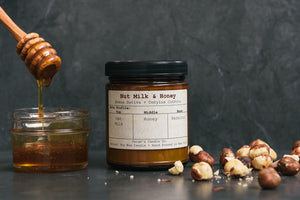 Nut Milk & Honey Taxonomy Candle
Vegan · Phthalate Free
Note Profile:
Choose between the following sizes: 
4oz Mini - 26 hour burn time


9oz Standard - 45 hour burn time


16oz Large - 90 hour burn time
 Try before you buy with our Free Samples.
Taxonomy is the branch of science concerned with classification. Our Taxonomy collection features a note profile classifying the fragrance notes blended to create each aroma. Rather than layering, we believe in carefully curating and blending fragrances to develop a unique candle experience
amazing candle :)
I love this candle it's the perfect scent for the kitchen many thanks Paige's Candles your amazing :)
Nut Milk & Honey Taxonomy Candle
Great product. Arrived when stated and loved the eco friendly packaging.
New Favorite
I bought a sample pack before getting a full size since buying scents online is hard. I put this one in as an afterthought but it became my absolute favorite.
It has a nutty aroma to it but it smells warm and light at the same time. Just a hint of sweet and not overpowering at all.
It is such a comforting scent and I ended up purchasing a full size. I will repurchase once it is used because it was such a happy surprise.