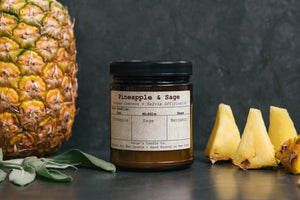 Pineapple & Sage Taxonomy Candle
Vegan · Phthalate Free
Note Profile:
Choose between the following sizes: 
4oz Mini - 26 hour burn time


9oz Standard - 45 hour burn time


16oz Large - 90 hour burn time
  Try before you buy with our Free Samples.
Taxonomy is the branch of science concerned with classification. Our Taxonomy collection features a note profile classifying the fragrance notes blended to create each aroma. Rather than layering, we believe in carefully curating and blending fragrances to develop a unique candle experience
Absolutely amazing
We own and operate a juice bar here in Middletown NY and we love the aroma and ambience it brings to our store 💜
Pineapple & Sage Taxonomy Candle
Love the Pineapple and Sage Taxonomy Candle
The scent is lovely and refreshing! Perfect any time of year. It always brightens my mood.
Our favorite everyday scent
This is my favorite everyday scent. It's subtle, but not too subtle. The best way to describe it would be like a light garden smell framed by fresh (not fake) pineapple. It's soft, but impactful, and it smells expensive. I like to keep one going in my kitchen/dining room area, and I usually receive a lot of compliments from visitors.
Best Smelling cEVER!
Amazing smelling candle!!!!! The entire house smelled like a tropical getaway. We received so many compliments from our guests on the candle. Worth every single penny, will definitely buy again!