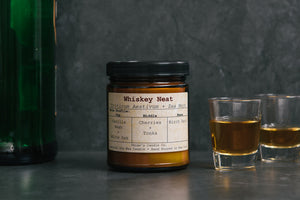 Whiskey Neat Taxonomy Candle
Vegan · Phthalate Free
Note Profile:
Vanilla Bean + White Oak

Cherries + Tonka

Birch Bark
Choose between the following sizes: 
4oz Mini - 26 hour burn time


9oz Standard - 45 hour burn time


16oz Large - 90 hour burn time
 Try before you buy with our Free Samples.
Taxonomy is the branch of science concerned with classification. Our Taxonomy collection features a note profile classifying the fragrance notes blended to create each aroma. Rather than layering, we believe in carefully curating and blending fragrances to develop a unique candle experience
Whiskey Neat Taxonomy Candle
Best candles EVER
I love Paige's Candles, she has such a talent! They have been my go-to candles since the pandemic and I love watching her company grow — well deserved! My favorites have been Hazelnut & Coffee and Whiskey Neat, but I'm excited to try out other fragrances as well.
Whiskey Neat Taxonomy Candle
The Best Candle Ever Made
Great unisex scent
I loved this scent. It is light, but gives just enough. My husband loves it (which is a tough sell). I'm a whisky lover so I wasn't sure how it would translate into a candle but it's not too much, I would LOVE this for fall and winter but am burning it in spring and loving it.