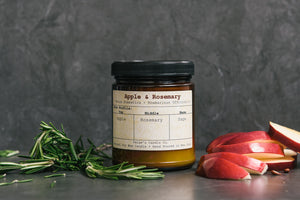 Apple & Rosemary Taxonomy Candle
Vegan · Phthalate Free
Note Profile:
Choose between the following sizes: 
4oz Mini - 26 hour burn time


9oz Standard - 45 hour burn time


16oz Large - 90 hour burn time
 Try before you buy with our Free Samples.
Taxonomy is the branch of science concerned with classification. Our Taxonomy collection features a note profile classifying the fragrance notes blended to create each aroma. Rather than layering, we believe in carefully curating and blending fragrances to develop a unique candle experience
Lovely fresh scent
This is one of my favorite scents at Paige's Candle Co. It's light, refreshing, and perfect for any season, but especially great for fall. I would burn this all day if I could. Definitely recommend!
A great apple scent
I love apple scents and this one is no exception. The rosemary makes it so it's not too sweet but it is still a sweeter scent. I saw another review say it's perfect for the kitchen and I agree with that. It's fresh, and you could burn this any time of the year!
These candles are the best
The title says it all. I've been a big fan of Paige's for quite some time and each new scent she comes out with tops the last. I'm Hazlenut and Coffee lover but when I saw this one I knew I had to try it. The apple & rosemary is a perfect kitchen candle year round. (Or living/dining room. Wherever!) Crisp, bright, warm and inviting. A favorite moving forward for sure!