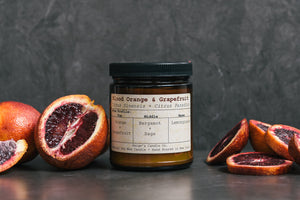 Blood Orange & Grapefruit Taxonomy Candle
Vegan · Phthalate Free
Note Profile:
Orange + Grapefruit

Bergamot + Sage

Lemongrass
Choose between the following sizes: 
4oz Mini - 26 hour burn time


9oz Standard - 45 hour burn time


16oz Large - 90 hour burn time
 Try before you buy with our Free Samples.
Taxonomy is the branch of science concerned with classification. Our Taxonomy collection features a note profile classifying the fragrance notes blended to create each aroma. Rather than layering, we believe in carefully curating and blending fragrances to develop a unique candle experience

Great Smell - Blood Orange Candle and
Pineapple Sage Candle
Reminds me of NYC
Love these candles. I first bought them in a store in Brooklyn. I recently moved to Texas and bought these to remind me of my time living in NYC.
great candle
This is the perfect candle for spring and summer many thanks Paige's candles
Scent change?
I bought the Blood Orange & Grapefruit before and I loved it. It's been over a year since I originally purchased the scent. My recent purchase smells too sweet for my liking. I could be remembering the scent differently but I wouldn't buy it again smelling as does it now. I'll try out a different scent next time.
Love this scent
Love this candle -- refreshing scent! Fast delivery, too!