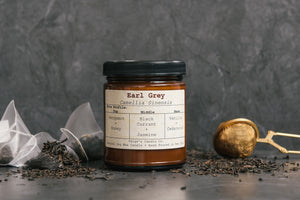 Earl Grey Taxonomy Candle
Vegan · Phthalate Free
Note Profile:
Bergamot + Honey

Black Currant + Jasmine

Vanilla + Cedarwood
Choose between the following sizes: 
4oz Mini - 26 hour burn time


9oz Standard - 45 hour burn time


16oz Large - 90 hour burn time
  Try before you buy with our Free Samples.
Taxonomy is the branch of science concerned with classification. Our Taxonomy collection features a note profile classifying the fragrance notes blended to create each aroma. Rather than layering, we believe in carefully curating and blending fragrances to develop a unique candle experience
Earl Grey Taxonomy Candle
You need this candle
This has got to be one of my favorite candles hands down. I've repurchased time and time again, this scent is amazing
The scent of our business
The Earl Grey scent is perfect: complex, elevated. the perfect amount of sweetness and spiciness. We use it exclusively in our photo studio and people always rave about it.
Great Scent
An absolutely wonderful scent. It smells like the perfect cup of Earl Grey tea.
The Earl Gray Candle!
Someone introduced me to this scent as "their favorite candle scent ever" and it immediately became mine too.
Every person I've burnt this candle around has taken a picture of the label so they could look it up later and get it themselves.
It's seriously that good.