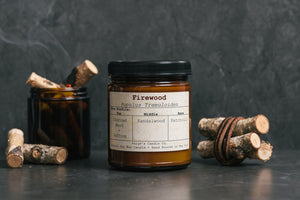 Firewood Taxonomy Candle
Vegan · Phthalate Free
Note Profile:
Charred Wood + Saffron

Sandalwood

Patchouli
Choose between the following sizes: 
4oz Mini - 26 hour burn time


9oz Standard - 45 hour burn time


16oz Large - 90 hour burn time
 Try before you buy with our Free Samples.
Taxonomy is the branch of science concerned with classification. Our Taxonomy collection features a note profile classifying the fragrance notes blended to create each aroma. Rather than layering, we believe in carefully curating and blending fragrances to develop a unique candle experience
Pleasantly surprised by Firewood
I was a bit hesitant about trying an aroma based on firewood thinking that the aromatics would be too overpowering for our apartment. But, I was completely wrong. The Firewood gave off a clean scent that is very much reminiscent of a fireplace in a log cabin. Loved it as it permeated through our home.
So obsessed with this candle
I absolutely love the scent of this candle! I also feel good about burning it knowing there aren't any harmful chemicals being released into the air.
Firewood Candle
Love this candle. Smells to me like charcoal with hints of wood that has been burnt. Very relaxing and cozy. I just wish the cap was metal so it could be used to snuff out. I use another candle's cap for snuffing. Will definitely purchase more. I love that the jars can be returned to The Brass Owl in Astoria! Thank you, Paige!
My favorite scent for a candle
I have been ordering this scent from Paige's Candle Co on Etsy. I was very pleased to find out from the insert in the last order that there was an independent website to order from This is the one and only time I have truly enjoyed a scent that included patchouli, it's usually such an in-your-face scent that takes over so it's nice to be able to enjoy it as part of an ensemble.