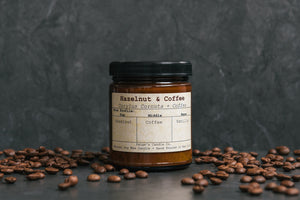 Hazelnut & Coffee Taxonomy Candle
Vegan · Phthalate Free
Note Profile:
Choose between the following sizes: 
4oz Mini - 26 hour burn time


9oz Standard - 45 hour burn time


16oz Large - 90 hour burn time
  Try before you buy with our Free Samples.
Taxonomy is the branch of science concerned with classification. Our Taxonomy collection features a note profile classifying the fragrance notes blended to create each aroma. Rather than layering, we believe in carefully curating and blending fragrances to develop a unique candle experience.
Great candle 🕯️
I love the hazelnut and coffee aroma perfect candle for the kitchen many thanks Paige's candles
Hazelnut & Coffee Taxonomy Candle
Authentic
This smells like the real deal. Every time I light the candle it reminds me of my son who loved hazelnut coffee. ❤️
Love my candles
My daughter bought me my first candle & now I'm hooked.
Love love love
Absolutely love the Hazelnut & Coffee candle!! Was a very nice touch adding a sample tealight candle in a fall pumpkin scent too! Thank you !!