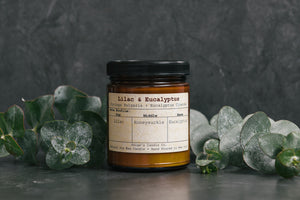 Lilac & Eucalyptus Taxonomy Candle
Vegan · Phthalate Free
Note Profile:
Lilac


Honeysuckle


Eucalyptus

Choose between the following sizes: 
4oz Mini - 26 hour burn time


9oz Standard - 45 hour burn time


16oz Large - 90 hour burn time
 Try before you buy with our Free Samples.
Taxonomy is the branch of science concerned with classification. Our Taxonomy collection features a note profile classifying the fragrance notes blended to create each aroma. Rather than layering, we believe in carefully curating and blending fragrances to develop a unique candle experience
Perfection
If I had the money I would have at least 2 of these candles in the largest size at all times. I love how every candle is triple layered, uses vegan soy wax, and Black woman owned. Like Y*nkee C*Nile could never. Thank you for making such a quality product that never disappoints.
(Heads up I couldn't submit this in the email for some reason, might have to look into that)
My partner loves it
Buying a candle without being able to smell it first can be tricky. But these candles smelled incredible.
Lingering Calming Scent
I lit this candle in my bedroom and after it was blown out the scent stayed for hours. Love the warming uplifting scents of this candle. Definitely getting the larger size next time.
It's a dream!
Such a gorgeous and refreshing scent. Perfect anytime, but especially as we head into spring. I love Paige's candles because they never smell artificial. It smells as if I am breathing in each of the ingredients in their natural state. Definitely going to keep this one on rotation.
Lilac & Eucalyptus Taxonomy Candle