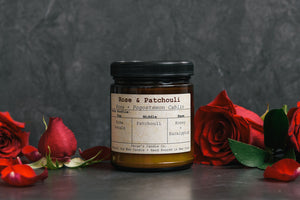 Rose & Patchouli Taxonomy Candle
Vegan · Phthalate Free
Note Profile:
Rose Petals

Patchouli

Honey + Eucalyptus
Choose between the following sizes: 
4oz Mini - 26 hour burn time


9oz Standard - 45 hour burn time


16oz Large - 90 hour burn time
 Try before you buy with our Free Samples.
Taxonomy is the branch of science concerned with classification. Our Taxonomy collection features a note profile classifying the fragrance notes blended to create each aroma. Rather than layering, we believe in carefully curating and blending fragrances to develop a unique candle experience
LOVE
I ordered Earl Grey based on reviews, so I knew it would be good, but I bought Rose & Patchouli because I love both of those scents, just didn't know how much I'd love them together. This is my favorite candle BY FAR and the scent lingers, too, just like the Earl Grey. Very high quality.
Unbelievable sents, bring calm, joy and love
Very unique and authentic sent, I'm really impressed. My favorites are honeysuckle and Jasmine, and rose / eucalyptus taxonomy series
A good alternative to Rosebud.
Paige used to have a Rosebud candle some years back that I absolutely LOVED, but it was retired. However, the Rose and Patchouli candle is a great alternative!